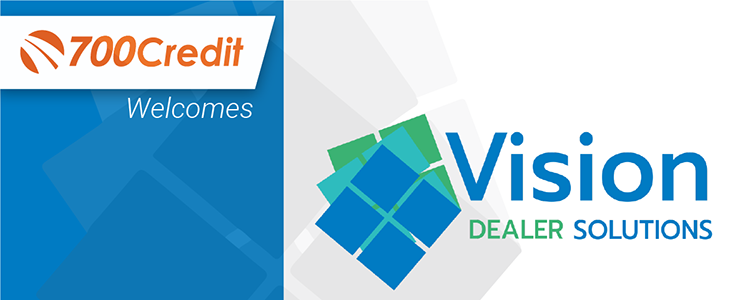 Simplifies workflows by fully integrating the credit application process directly into the VisionMenu™ platform
Farmington Hills, Michigan – June 23, 2021 – 700Credit, LLC, the automotive industry's leading provider of credit reports, compliance solutions and consumer pre-qualification products, has announced their alliance with Vision Dealer Solutions. The VisionMenu™ is a web-based F&I tool that streamlines the sales process and is completely customizable, giving you the power to build the process that best fits the exact needs of your F&I office.  This new integration will provide dealerships with seamless access to 700Credit's credit report & compliance workflow optimizing the sales process even further.
"VisionMenu™ takes an innovative approach to providing unlimited customization options to match each customer's buying preferences, so dealers can build the process that works best for their dealership.  Integrating our credit and compliance platform further speeds the sales process so dealers can complete deals quicker and sell more vehicles", said Ken Hill, Managing Director of 700Credit. "We are pleased to have Vision Dealer Solutions as a partner and welcome their customer base to our 700Credit family."
"We are very excited to offer 700Credit robust compliance suite to all of our products", said Ron Martin, President of Vision Dealer Solutions.  "Whether the dealer is using the VisionSales, VisionMenu, or VisionTouch product, the 700Credit tools are tightly integrated and easily accessible."
To learn more about this alliance, CLICK HERE.
About 700Credit
700Credit is the automotive industry's leading provider of credit reports, compliance and soft pull products. The company's product and service offerings include credit reports, prescreen and pre-qualification platforms, OFAC compliance, Red Flag solutions, MLA, Synthetic Fraud Detection, Identity Verification, score disclosure notices, adverse action notices and more. 700Credit's goal is to provide its clients with the highest quality data in a compliant framework in the most efficient manner possible. For more information about 700Credit, visit www.700credit.com.
About Vision Dealer Solutions

Vision Dealer Solutions provides companies, dealers, and agents with technologically advanced tools to expedite customer service, create meaningful and profitable relationships, and shape the Finance & Insurance (F&I) industry. Vision Dealer Solutions products allow finance managers to quickly complete a deal using cutting-edge rating and contracting features and easy-to-use electronic sales tools. Products also help dealers simplify the selling process and increase profitability with eSign, secure document storage, and customizable progress tracking. Discover more about Vision Dealer Solutions at visiondealersolutions.com.

Media Contact
Susan Burke
sburke@700credit.com
(616) 240-9853