Used Car Dealer Podcast – Featuring Ken Hill, Managing Director of 700Credit
In this video episode of the Used Car Dealer Podcast, Zach Klempf interviews Ken Hill, Managing Director of 700Credit. Zach and Ken engage in a timely discussion on topics ranging from digital retail to consumer prequalification. In this episode you will hear:
Observations from Ken on the impact of the COVID-19 pandemic on retail auto dealers as it relates to credit  
How credit and compliance have adapted for automotive digital retail and what role pre-qualify plays in that arena
Compliance mistakes that used car dealers make that could get them into legal trouble
A checklist of credit and compliance tools from pre-screen to income verification – and what Ken suggests every used car dealer needs to be successful
A peek ahead at 2021 and what 700Credit has coming down the pipeline
Please take a few minutes to view this episode!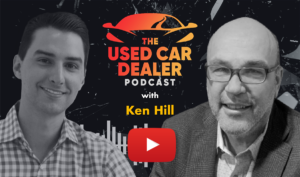 Listen to their other podcast episodes: https://www.sellyautomotive.com/podcast